Laptop lifestyle Mentoring
If I asked you which would you prefer, cash in the bank success SOONER or LATER, your reply would be quite predictable.
So, if you're a forward-looking individual, and I'm sure you are.
You will immediately see the value and sense of considering the help of a mentor to guide you and help you win big.
Someone with first-hand experience who has walked that same pathway before you.
Someone who knows exactly what actions to take next, and more importantly, the actions to avoid, and the ones which will waste your time and money. 
Of, course you can, and some do so, although, generally it takes them FAR LONGER alone.
Even more fail due to frustration as well as lack of motivation and support, and as a result, end up giving up completely.
For some individuals the first year or so can be quite brutal and this is where their trusted advisor will help and guide them.
They'll be there to help, encourage and advise.
Ready for the NEXT level?
Or, you may have hit a wall where your online income has flatlined?
How frustrating!
This is where I really come into my own.
With a pair of fresh eyes, together we can get your income growing again quite soon.
Here are the BIG Benefits of Mentoring
PLEASE NOTE:
Not using my services is likely to cost you FAR MORE in lost income and future income generation potential, than my charges, and that sum grow each month.
My fees are calculated on the income setting up your own financially lucrative small business is likely to generate.
Mentoring can be VERY inexpensive!
If you invested £1 into your growth and future income generating ability which generated £10, you'd be happy and prepared to do that all day long, correct?
That's how you should think of coaching and mentoring.
I have FOUR types of mentoring available!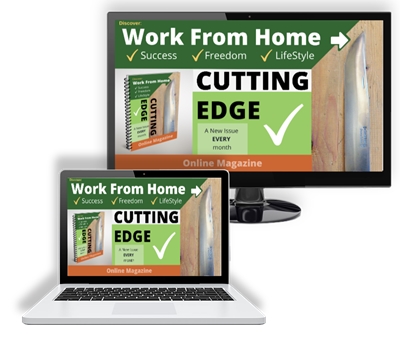 With another laptop lifestyle expert (Faith Pepper) who also has 16 years of front-line experience, I run an online membership magazine we call the 'Cutting Edge'.
This will give you the opportunity to see the value we provide before taking the next step.
Every month it will provide you with TONS of valuable income generating information, as well as a LOAD of ideas to start your profit stream and laptop lifestyle income flowing.
Just click below to learn more about what you can't afford to miss:
I facilitate an hour-long online meeting every week and I address the problems that members are having as well as dealing with specific subjects that have been requested.
The beauty of this type of mentoring is that you will share a lot of the same problems as other members, and you can learn from the rest of the group and gain tons of ideas.
This type of mentoring offers huge value!
The cost is just £150 per month…
THIRD: One-to-one Mentoring
Choose this option and you get me to yourself, my undivided attention for a whole hour every week where I deal with ANY subject you desire.
To keep the cost down I package this as a monthly service.
Cost: £600 per month…
FOURTH: Consultancy by the hour or day.
So, you have a problem and you need some help!
The solution or problem may take an hour, or could require a full day to reach, but there are no expensive travel costs to consider or think about.
Consulting in this convenient way, it doesn't matter whether you in the world, London, Sydney or Timbuktu as we can do it all via face-to-face computer screen.
Cost: £250 per hour or £1,000 per 6-hour day…
Sorry if this comes as a bit of an anti-climax, and I might be available.
However, due to my own WFH (Work from Home) and laptop lifestyle commitments, I only take on a limited number of new 1-2-1 students and consultancies.
So, how do you discover if I'm free?
Join my email list and I'll keep you current and up-to-date of when I have time availabilities or when I am starting a new coaching group.
I accept new students on a first come first served basis.
Just click here to join the list…